Discover more from Superpowers for Good
Leadership Lessons From—And For—the World's Great Changemakers
Over 4,000 subscribers
1.1 Million Refugees Arrive In Germany; This Entrepreneur Goes To Work
This post was originally produced for Forbes.
Anne Kjaer Riechert, a young, Danish entrepreneur living in Germany saw the flood of refugees arriving in 2015 and did something about it. [Unrelated to this story, I have written about polio eradication for the Rotarian magazine.]
Riechert, a past Rotary Peace Fellow, moved to Berlin in 2012 to set up the Berlin Peace Innovation Lab in collaboration with Stanford University. When she observed what ultimately became 1.1 million asylum seekers, mostly from Syria, she saw an opportunity. "Currently, there are 43,000 open jobs in IT in Germany," she says.
John Hewko, general secretary of Rotary International, who spent much of his career in Europe, commenting on the refugee situation there, says, "If we don't act now to build the conditions for sustainable peace, then the likelihood of events that undermine it, such as profound social instability, a lack of integration of migrant populations into their new host countries, and failures of national governance will only increase."
So, she created a coding school called ReDI School of Digital Integration to train refugees to fill some of those jobs. Partnering with German companies, including Daimler AG, she is providing training in coding languages "like Ruby on Rails, CSS, HTML, Python" along with "skills like entrepreneurship and business intelligence," she says.
Michael Vormittag, Retail Digitalization at Daimler AG, says, "I am convinced of the great work ReDI is doing. That's why we work together. I think that a cooperation like ours is highly beneficial for both sides."
"On one hand we provide the refugees with industry-insights and work-experience which will support their future professional career. On the other hand they are highly motivated and offer new perspectives with their diverse background and fresh ideas. I believe that this diversity drives innovation and with the integrated working-approach real integration can be achieved," he says.
The nonprofit school raises money any way it can, through partnerships with companies, who, like Daimler, may provide help in several ways, including providing mentors and trainers and sponsorships for the school. Reichert says they have also used crowdfunding. "In the future we hope to also add funding from foundations and public funding," she adds.
Anne Riechert, photo by Loulou d'Aki
The operations are just six months old. The school has two co-founders, five part-time employees and 40+ volunteers. The school has enrolled 42 students in the first cohort, 35 of whom graduated. Another 60 were enrolled in 10 summer school courses and another series will begin in October.
Reichert says she hopes to expand to two or three more cities in Germany in 2017.
The students, she says, are mostly from Syria and many are in their early twenties, having completed a year or two of college before being forced from their homes.
Completing the trip from Syria to Germany proves they are "resourceful in body, mind and soul," she says of the struggle. Once they arrive, they often wait 12 to 16 months to get permanent papers allowing them to work. She sees an opportunity to use that time for productive training so that they not only learn some skills but connect with people as well.
The education is transferable. "IT is also a skill you can use anywhere on the globe," she says. Hence, she equips the participating refugees for success, even if they aren't ultimately allowed to stay.
The courses, typically taught three times per week for a total of eight hours, use a project approach intended to benefit more than just the students themselves. "The classes are all project based learning, meaning that the students are working to build their own projects as part of the class. One group is, for instance, building a web-based app called 'Bureaucrazy' to help newcomers in Germany better navigate the bureaucratic paperwork. Another group built a website and started a catering service where illiterate Syrian women cook for company events."
She adds, "All our classes happen Face-to-Face, because we believe getting a job in Germany is '50% what you know' and '50% who you know.'"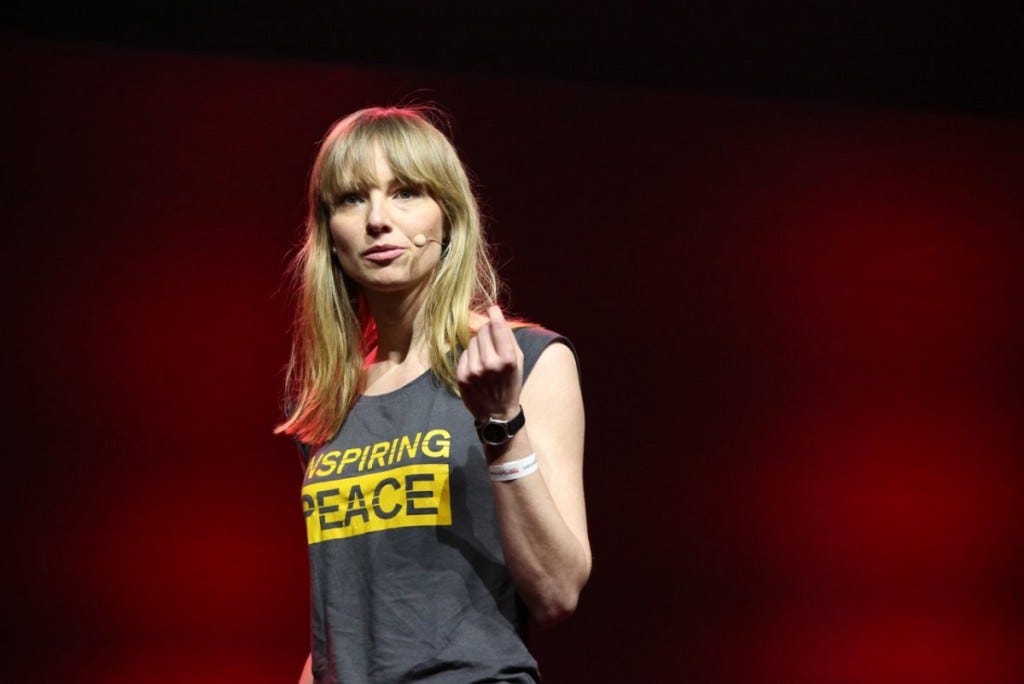 Anne Riechert on stage at TEDx, courtesy of ReDI School of Digital Integration
The scale of the problem with millions of refugees in Europe is daunting. "We would like to expand into other parts of Germany and Europe to be able to provide many more asylum seekers the opportunity to take part in our classes. In order to expand, we need to find the right local partners–refugee homes, companies and volunteers–and to secure enough funding for us to be able to coordinate all the volunteers and partners," she says.
It is clear the realities she faces weigh on her. "Applying for funding takes a lot of time, and since we are a small team that has to coordinate 100+ students and volunteers and secure a high quality delivery of content, it is hard to find the time to sit down and write grant proposals. As a relatively new organization, we are also still young and untested in comparison to other players helping refugees."
"But I hope our agile processes, innovative approach, speed and quality of delivery will attract the right kind of partners," with characteristic entrepreneurial optimism.
Riechert has a four-point vision of the future:
On a individual level I hope to help as many asylum seekers as possible get well settled in to their new host countries and ensure that they get a good job and through that can become financially independent.

On a national level I hope that our students can be role models to inspire other asylum seekers to pursue education and good careers.

On a global level I hope that our students can help build technical solutions that will help all the refugees that are stuck in UNCHR camps or live as illegal refugees.

On a political level I hope that we can change the way people look upon refugees – from somebody to be afraid of – into someone to welcome with open arms, interest and compassion.
Hewko says, "Anne's efforts to integrate refugees into the European tech economy is an example of how Rotary Peace Fellows and Rotary members are striving to create sustainable peace throughout the world."
On Thursday, August 11, 2016 at noon Eastern, Riechert will join me here for a live discussion about her work in Germany to educated and welcome refugees into the European economy. Tune in here then to watch the interview live. Post questions in the comments below or tweet questions before the interview to @devindthorpe.
The post 1.1 Million Refugees Arrive In Germany; This Entrepreneur Goes To Work appeared first on Your Mark On The World.